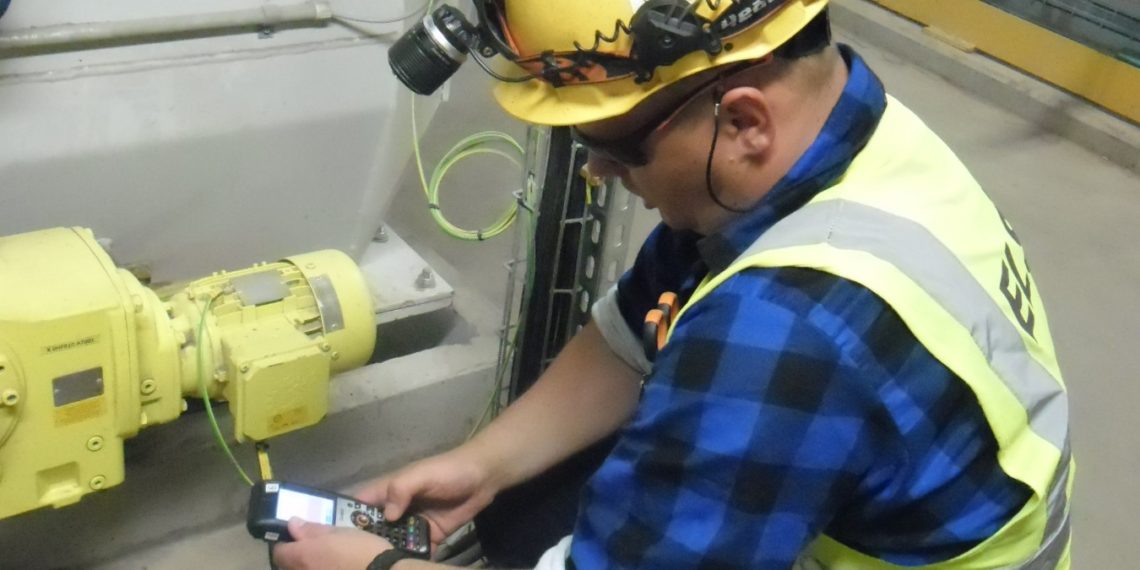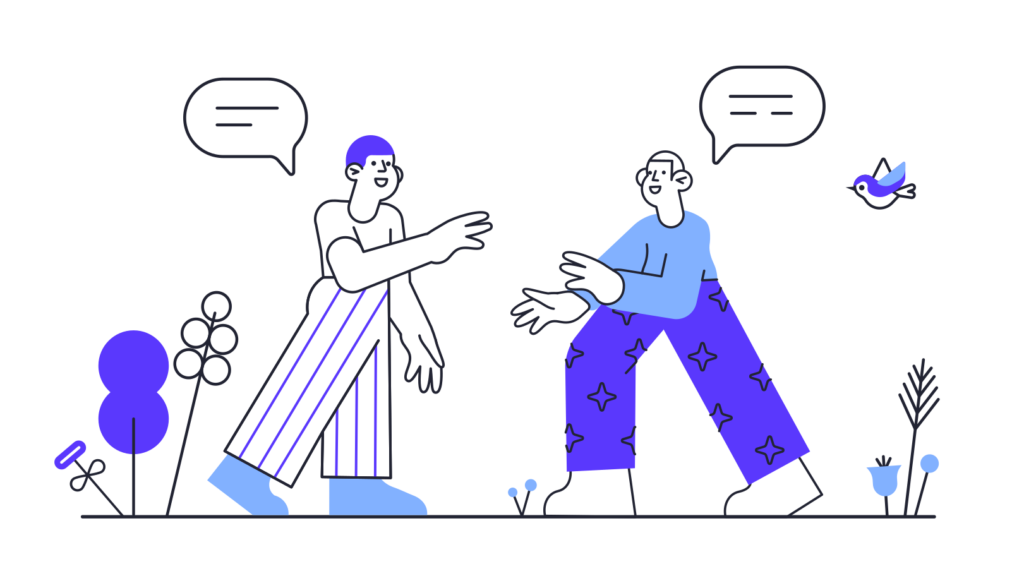 Manufacturing Area
Custom Inspection Works and Implementation of Annual Reviews for External Customers
Description
The solution allows commissioned inspection works execution at the customers' sites. Servicing companies, apart from responding to service events, offer support in carrying out inspection/inspection works during service outages and annual inspections. In the case of electrical work, this is an inspection of the electrical stack from sources through transmission elements to all components of the electrical switchgear (cabinets, cassettes, appliances).
The solution supports such companies in conducting inspection works for multiple customers in a coordinated manner and is based on the Inspections module. That allows for defining the inspection work templates and implementation of related activities on groups of individual customer's devices. The coordinator creates a task dictionary, imports/defines the list of end-customer devices, and determines the inspection activities necessary to perform under a given task/order.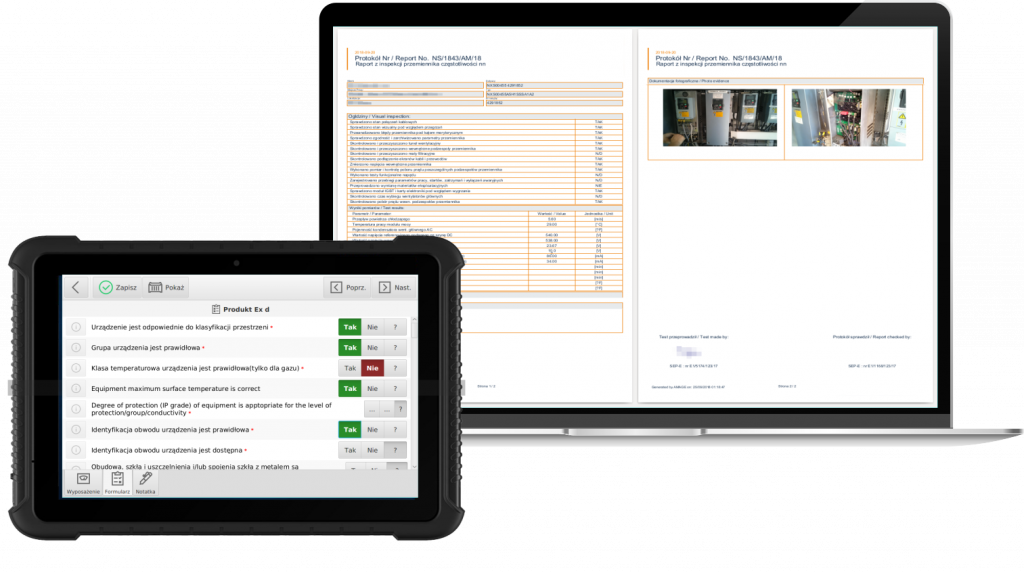 Those works are carried out with mobile devices, working in online/offline mode. All the work results are sent to a central server along with electronic signatures, photo documentation, and other data and automatically generated into final protocols ready to be printed/transmitted to the client.
Mechanisms of work progress visualization through dashboards allow visualization at a given site where work is being carried out. That significantly increases employees' and customers' knowledge of the ongoing work. Optional access to the results of the work through the Customer Portal allows customers to monitor the progress of the work on an ongoing basis and access the generated service protocols of the equipment. Importantly, all data and equipment history are used in subsequent periods when such work is required, which increases the possibility of comparing data between particular work periods. That makes it possible to detect abnormalities and degeneration of specific equipment parameters that would have usually gone undetected.
Advantages for the Area Coordinator
Definition and scheduling of inspection work for external clients. Monitoring performed work and coordination between the teams.
Facilitated settlement of performed work and activities by automating the generation of inspection reports and final inspection protocols. Digital circulation of information and execution of activities.
Maintenance activities execution through mobile devices with support of activities through predefined checklists. Integration of information about measuring devices and their eligibility integrated into the generated final reports.
Quick access to electronic inspection protocols, monitoring work progress, and access to historical data through the Customer Portal. Ability to order additional work for teams previously performing given activities.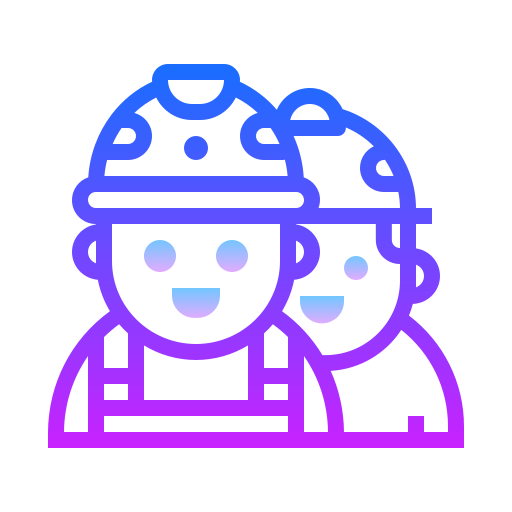 Value of Investment and Savings
The costs of manual work organization and preparation of inspection protocols after the task is completed.
The costs of paper/email circulation regarding the work progress, supervision of the execution, and corrections of the service of the performed work.
Profit from providing the customers with information on the inspection work process through a dedicated Customer Portal.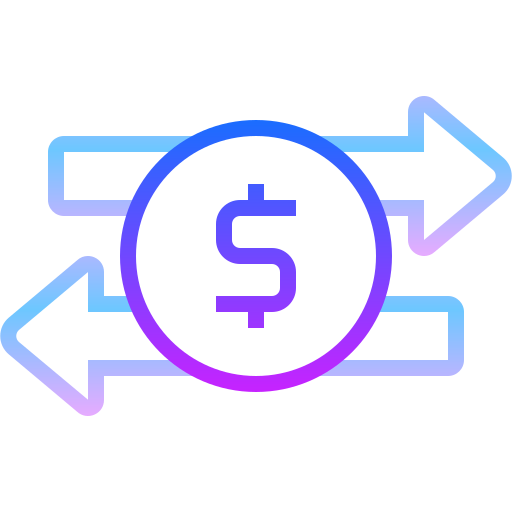 Users
Area coordinator – defines activities, imports / defines devices, defines contracts and tasks, assigns work and verifies the correctness of control work
Contractor – performs control works at the client's site using mobile devices
Client – through access through the Customer Portal. Monitors the work and has access to the results of the inspection work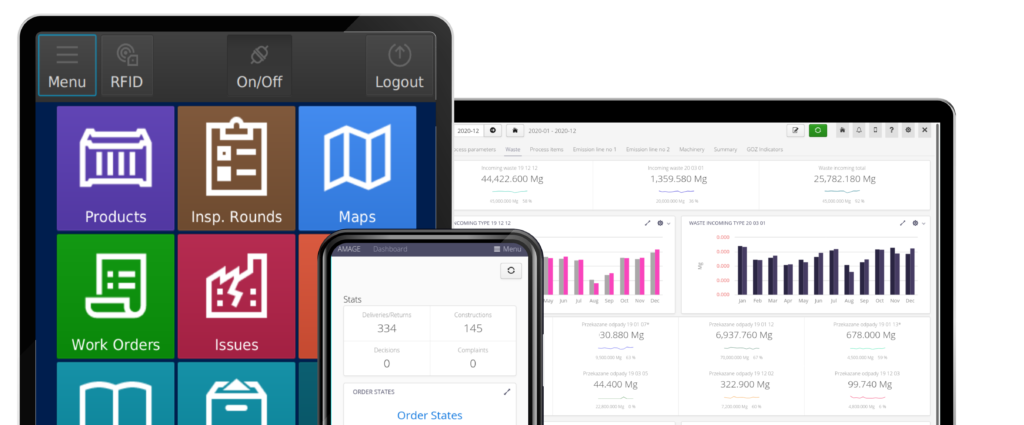 Components
AMAGE Web Desktop Application
AMAGE Fx Application
(Optional) Customer Portal
Rugged devices – 10″/6″ tablet/terminal